News by Mr. Joseph Harvey, Editor of Animal Pharm
Zoetis received three approvals from the Japanese Ministry of Agriculture, Forestry and Fisheries (JMAFF) in 2018, bolstering its position as the firm with the most new products in Japan over the last 10 years.
The JMAFF approved 14 new animal drugs in 2018. These products included five antimicrobials, four pharmaceuticals, three biologicals and two antiparasitics. There were eight approvals for livestock and six authorizations for companion animals.
The number of JMAFF approvals is down by one in comparison to 2017's total.
Regarding marketing approvals for new animal health products in Japan between 2009 and 2018, Tokyo-based animal health consultancy AHRMS said Zoetis had received the most.
The president of AHRMS – Yuki Ujimasa – told Animal Pharm: "The largest number of approvals was gained by Zoetis (37) followed by Kyoritsu Seiyaku (30), MSD Animal Health (18), Kyoto Biken (18), KM Biologics (17.5), Novartis Animal Health (11), Boehringer Ingelheim Animal Health (11), Merial (10), Nisseiken (9), Elanco (8), DS Pharma Animal Health (8), Zenoaq (6), Bayer Animal Health (5) and Meiji Seika Animal Health (5)."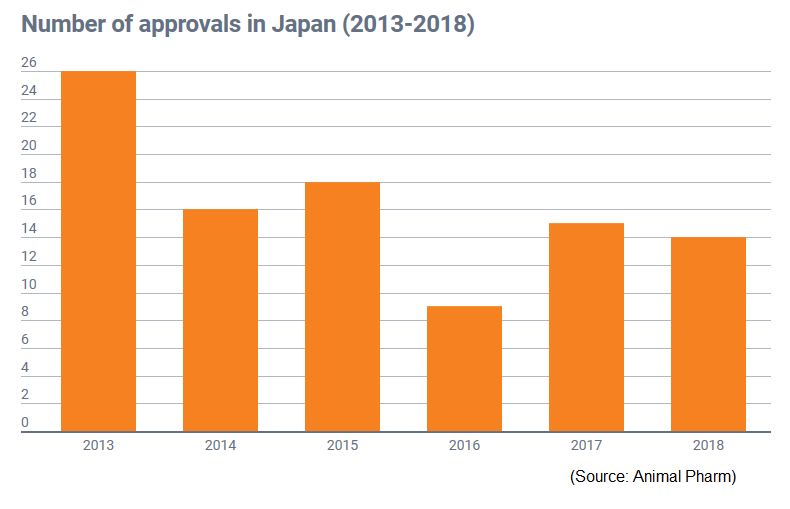 Of these approvals, 100 were for international businesses and 93.5 for domestic companies.
Dr Ujimasa explained: "The number includes pharmaceuticals, biologicals and diagnostics for dogs, cats, cattle, swine, poultry and fish. Generics and claim extensions are excluded. Approvals for a new species is counted as '1'. A product of co-registration with two companies is counted as '0.5'."