Osaka-based Senju Pharmaceutical Co., Ltd. (Headquarters: Chuo-ku, Osaka, President: Shuhei Yoshida, hereinafter "Senju Pharmaceutical") and DS Pharma Animal Health Co., Ltd. will release "IDU Senju (R) ", an eye drops for cat herpesvirus infections, which Senju Pharmaceutical obtained marketing approval in December 2020, and will release it on May 19, 2021.
"IDU Senju (R) " is the only ophthalmic agent for cat herpesvirus disease in Japan that contains idoxuridine as an active ingredient. This drug contains 1 mg of idoxuridine in 1 mL and is instilled 1 drop at a time, 6 times a day (interval between instillations is 1 hour or more) to reduce various ophthalmic symptoms caused by cat herpesvirus. increase.
Both companies hope to contribute to the improvement of veterinary ophthalmic medical care more than ever by launching "IDU Senju (R)".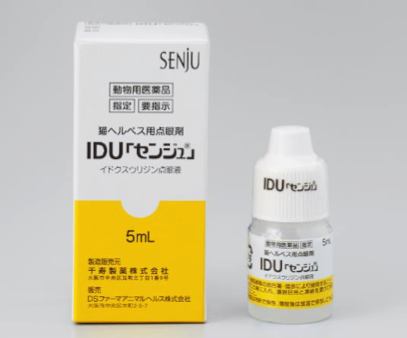 The press release in Japanese can be downloaded from the URL below:
https://animal.ds-pharma.co.jp/pdf/20210512_press.pdf